Ainde Wainzo
Carved in Stone
He called himself a semi-stone age boy. His people called him "t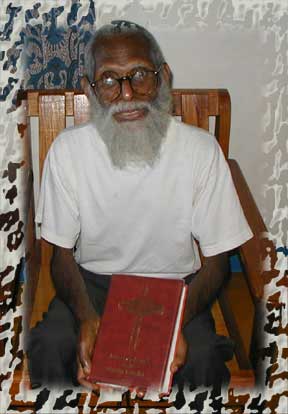 he friend of the civilised ones," but he lived far away from civilisation in a remote rural area known as Kukukuku country. Some 65 years later it remains what is often termed "backwater" in regard to developed, civilised life.
Born sometime in the mid to late 1940's, he was named Staimaninzo, which means arrested growth or stunted. From the time of birth, following his mother's experience of nearly being clubbed to death, until this present day, he has had repeated brushes with death, from which survival has been a miracle. Of the age friends with whom he was initiated, only one other is yet living. He grew up surrounded by tribal conflicts in which most of his family members were killed and some were eaten. The sense of despair and futility was so high, his own mother planned to hang him, and then herself, to save him from the brutality of his mixed-tribe pedigree that left him particularly vulnerable to inter-tribalfeuding.
His mother, however, broke from her intentions at his piteous cries that he did not want to die. She then took on the hardworking labor of a man to provide for her children despite the many tribal tensions that periodically fragmented their lives. Brushes with death came from other arenas as well. Once, he was nearly crushed by a boulder; deadly malarial attacks on the brain, asthma and other respiratory diseases (major causes of death in his nation) cost him more than 30 hospital stays, averaging ten days each.
Why has he beaten the odds of his countrymen and survived the repeated
attacks against his life by people, nature and disease? For him the answer
is simple, although he did not know that answer until later in his life. He
had been given a life-mandate to translate the Bible into his own language.
Ainde came to know the Lord through missionaries who came to his village and established churches. He grew up with the missionaries as his teachers and so came to know the Lord when he was very young. In fact, it was one of his primary Sunday school teachers, a missionary from America, who later told him about Christ For The Nations (CFNI) and helped him apply for a work scholarship to attend CFNI. It was while he was a student at CFNI that the Lord spoke to him, very specifically, concerning translating the Bible into his language. Ainde had already worked somewhat with SIL translators who were in his area, but encouraged by the word he received from the Lord in Dallas, he eagerly prepared to return to his nation. When asked what he learned while at CFNI that has most helped him in his work, the reply came: "I learned to obey God."